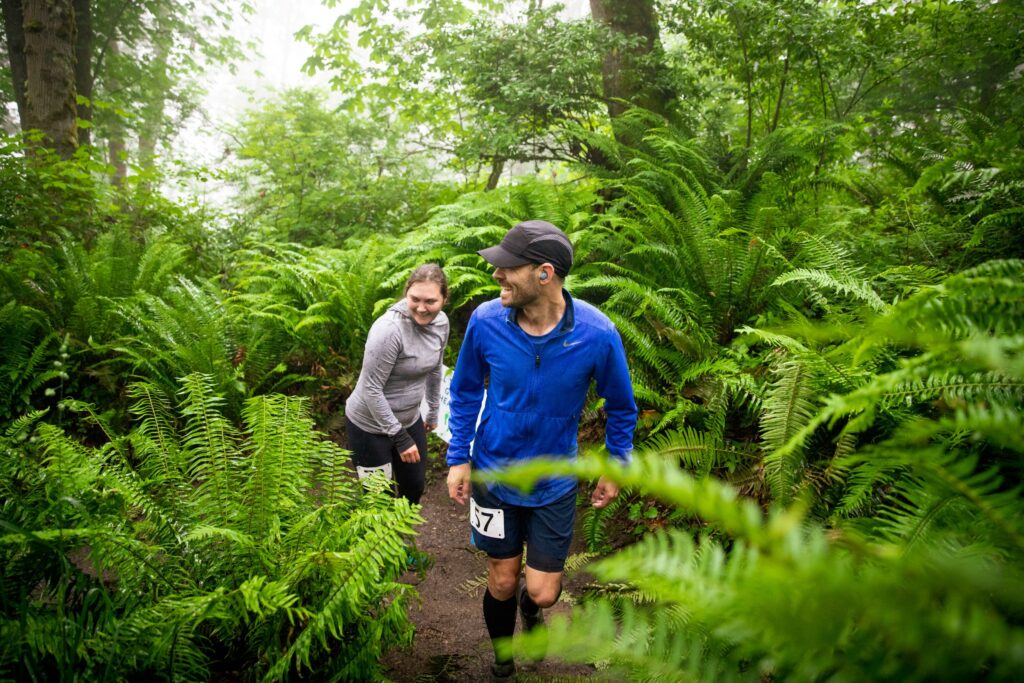 2022 Results:
Full results are now available on UltraSignup. (Placement is determined by distance and then finishing order.)
Our top finishers battled muck, mud and each other for some incredible performances. Congratulations to our Last Person Standing, Ritvik Mishra, with 17 laps (37.1 miles) completed! Our Last Woman Standing was Katie Jensen, with 21.8 miles and 9 laps completed within the cutoff.
Fastest-lap honors go to Ritvik Mishra (17:33) and Gael Gebow (23:10).
Men's podium: Ritvik Mishra, Zachary Szablewski, Chris Wu
Women's podium: Katie Jensen, Stacey Sype, Jessi Albin
Photos: A huge thank you to Somer Kreisman for capturing all the guts and glory. Photos are available at https://somerphoto.smugmug.com/Gulch-Countdown-2022.
Final Wrap Up: Thank you to Adam and Josie Braddock for graciously opening their home to this race each year and keeping all the runners supplied with warm coffee, delicious food and a hose to wash off muddy legs.
We are so grateful for our volunteers who helped with timing, the aid station and keeping runners on course.
A huge thank you to our sponsors who supported the race and racers: Adam Braddock Real Estate, McClain Insurance, MiiR, Spring Energy, and Athletic Brewing.
2021 Results:
Last man and woman standing: Zach Szablewski (18 laps, 39.2 miles, course record) and Iris Klein (11 laps, 24 miles). Full results: https://ultrasignup.com/m_results_event.aspx?did=84769
Photos by Ryan Thrower: https://ryanthrower.smugmug.com/Gulch-Countdown-2021/
Top 3 men: Zach, Will Jones (2nd) and James Wenzel (3rd)
Top 3 women:
1st: Iris Klein, 2nd: Kim Jacobson, 3rd: Shannon Rolbiecki
Fastest Lap of the day:
16:10 Zach Szablewski
18:52 Iris Klein
Race Report by Greg Kroleski
January 4th, 2020
Results are loaded to Ultrasignup! (Placement is determined by distance and then finishing order)

Congrats to the 2020 winners! Last Women Standing Emily Geyman (12 laps, 26.2 miles) and the Last Man Standing John Maxwell (16 laps, 34.9 miles)

Fastest lap of the day goes to Mariangela Cruz 19:44 and John Maxwell 15:34

Women's Podium: Emily Geyman, Mariangela Cruz, Gretchen Walla

Men's Podium: John Maxwell, Zach Szablewski, Will Jones

Thanks to all the racers and all the volunteers for making this an exceptional event!
Video of the race by Steve Chapman.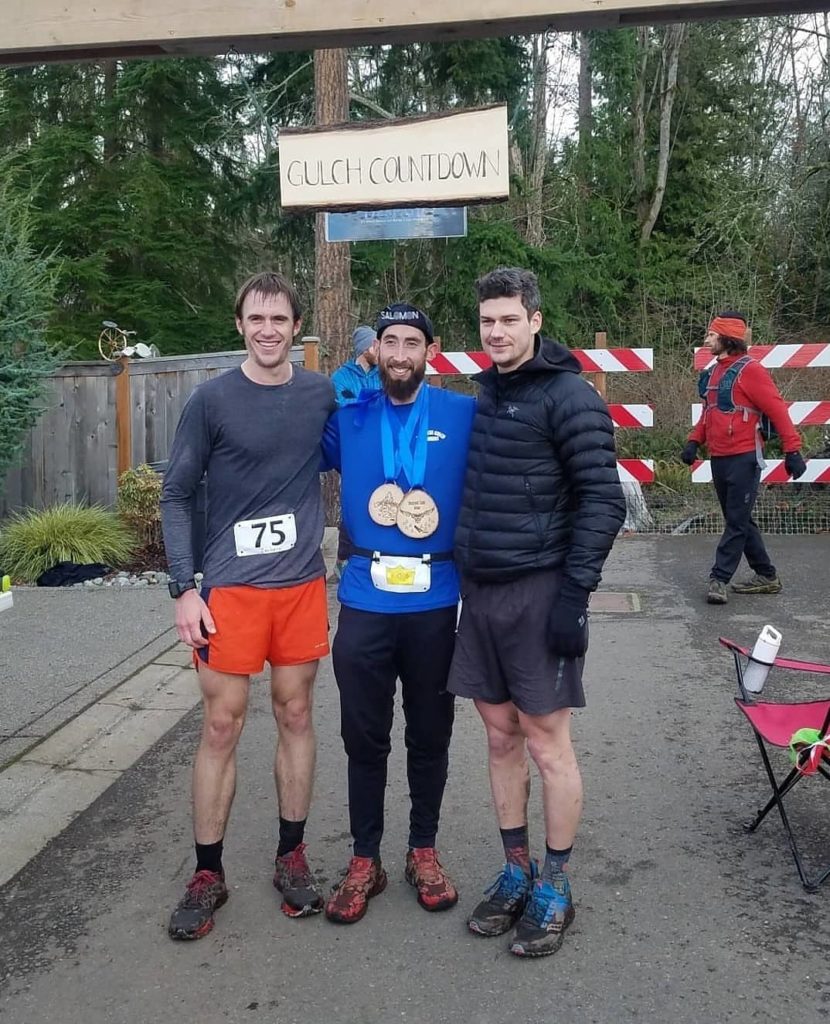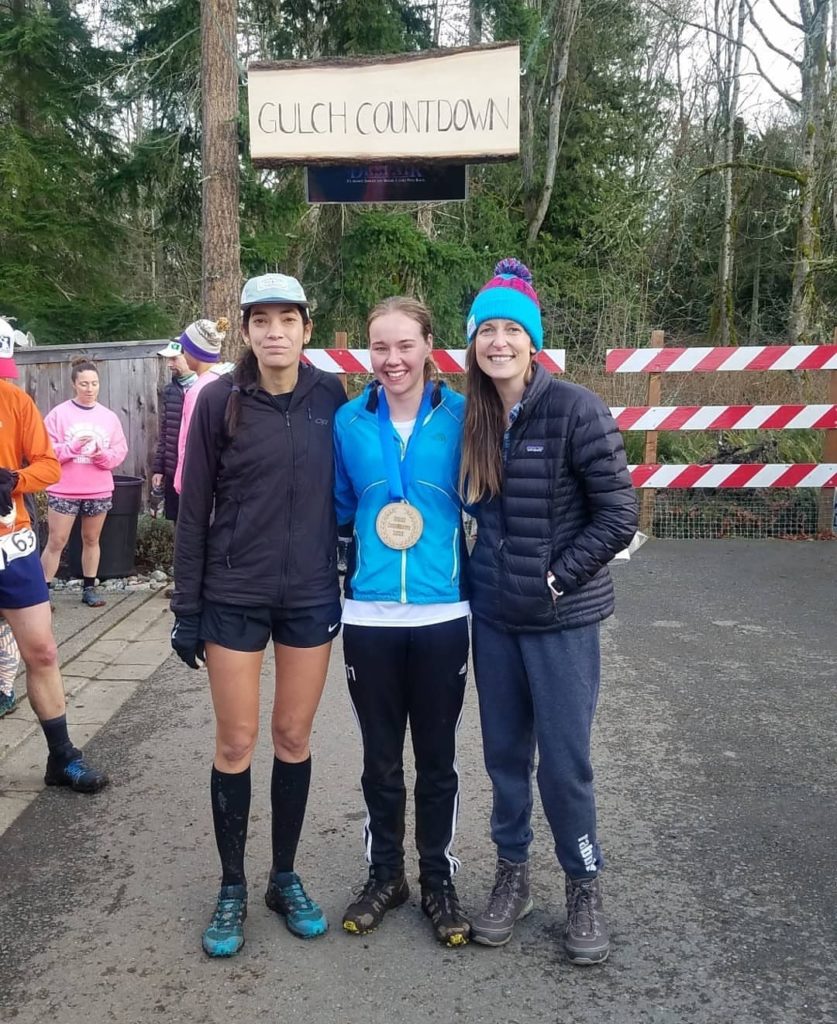 June 8th, 2019 – Relay
Results are loaded into Ultrasignup. It shows overall placing and the distance completed by the team. I wasn't able to split it into the three categories of Men, Women and Mixed. It's a little confusing but I think that's the best I can get it.
Interview on the Movement Maker Show
Mukilteo Beacon – Hidden Gem Inspires Japanese Gulch Runners
Congratulations to the winners!
Men: Will Jones and Nathan Richards with 19 laps (41.4 miles) completed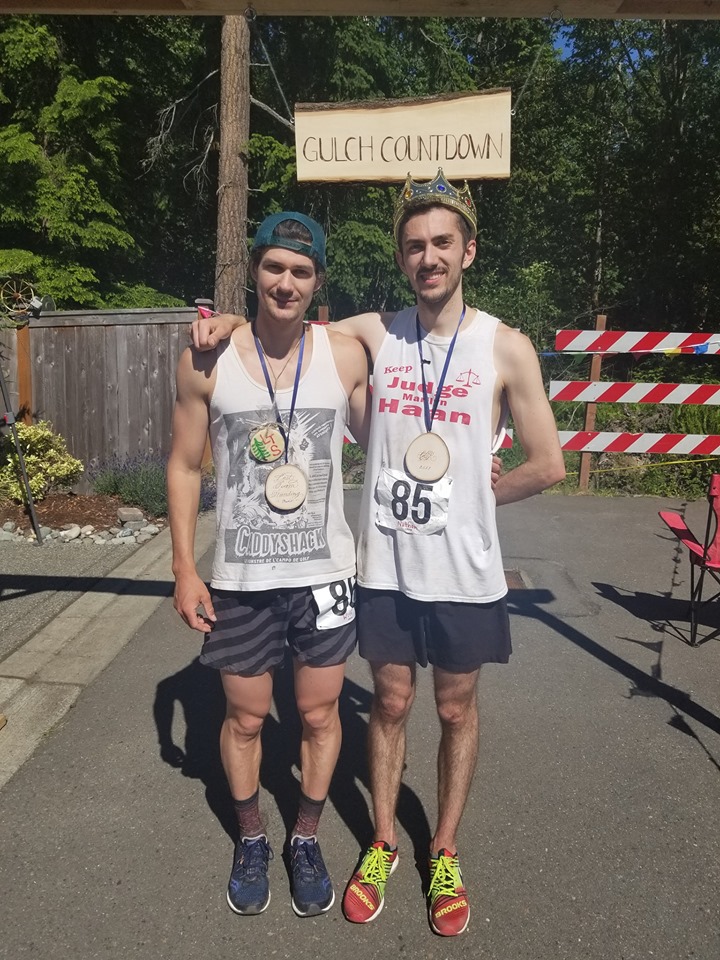 Mixed: Leah Wessler and Brandon Vaughan with 19 laps (41.4 miles) completed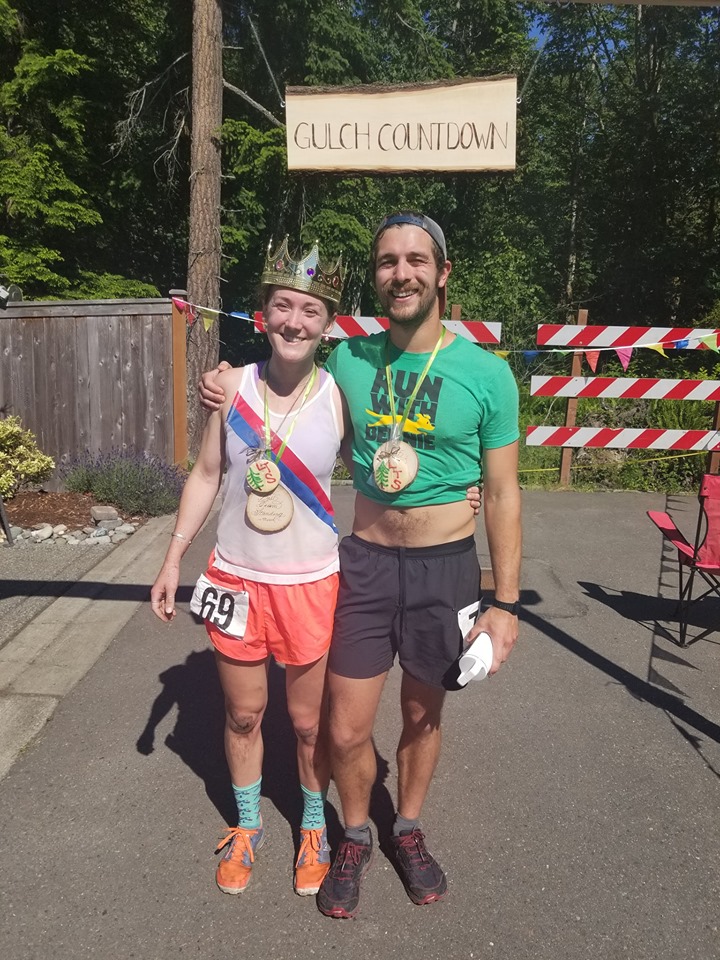 Women: Andi Skorheim and Claire Gilfillan with 12 laps (26.2 miles) completed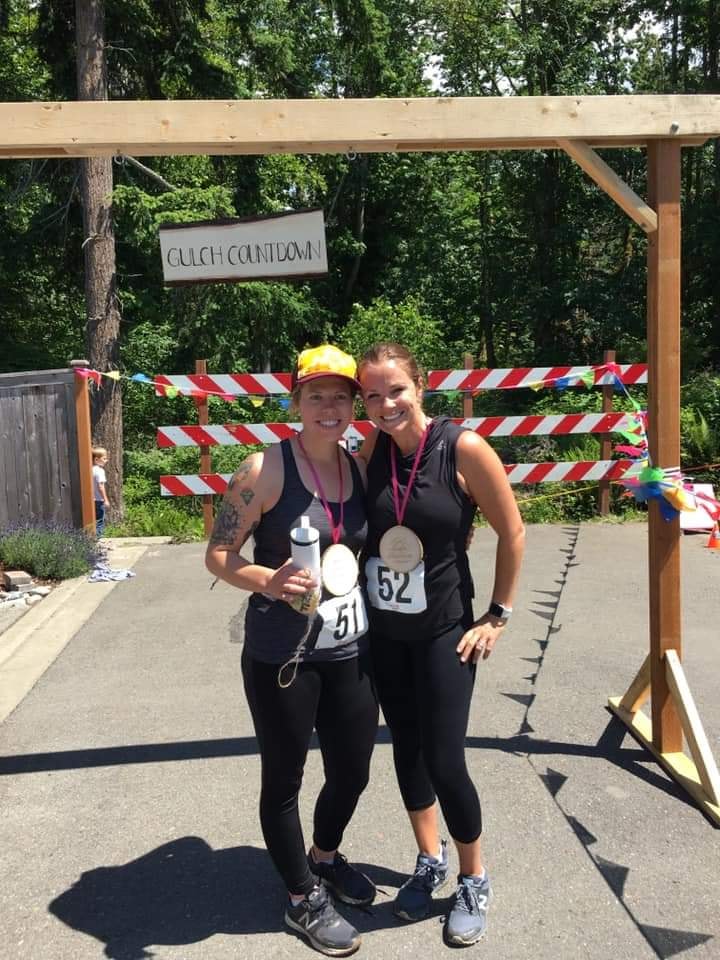 Overall win went to Will and Nathan. (After 19 laps, both Will and Nathan were not eliminated, while Leah was eliminated and Brandon opted not to run another lap.)
Fastest lap of the day:
Men: Nathan Richards (14:57)
Women: Leah Wessler (17:20)
Both of these times beat the current Strava course record!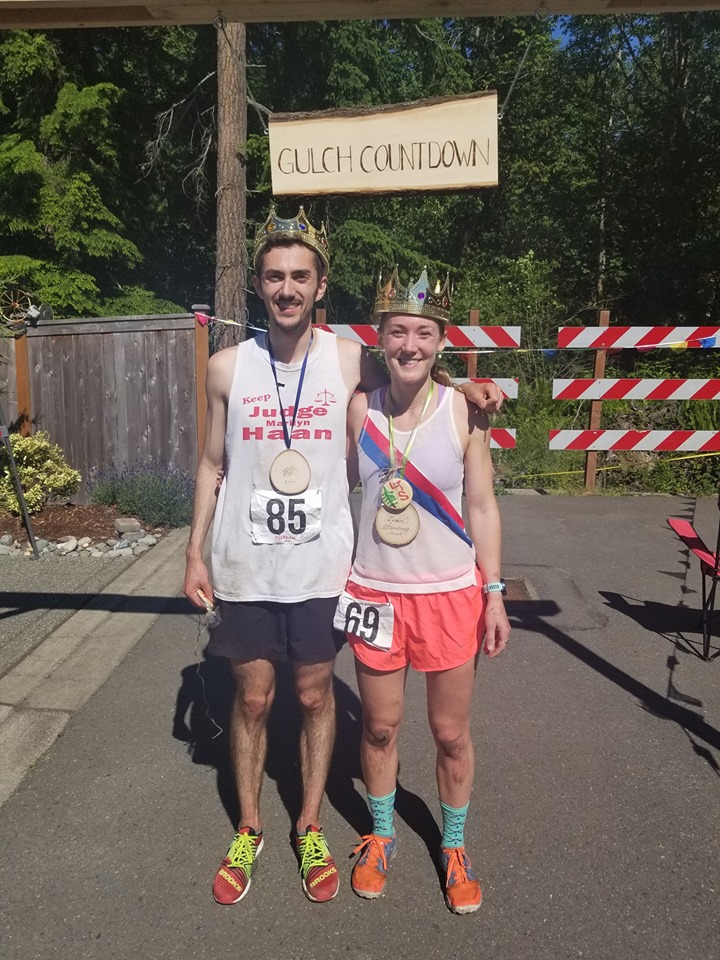 Thank you to our volunteers: Adam and Josie Braddock for hosting, clearing the course and making the hot food and cookie medals; Kristin Elwell for handcrafting the medals for the winners; Dan Clements for taking the photos; Gary Halcomb for engraving the cups and MiiR for donating them; Nathan Yoder for helping with the timing (and designing our logo!); and Robert Torres-Miller for helping with the aid station and picking up the pizza. It's you guys that make our club great!
Here is a picture of the final scoreboard with all the details.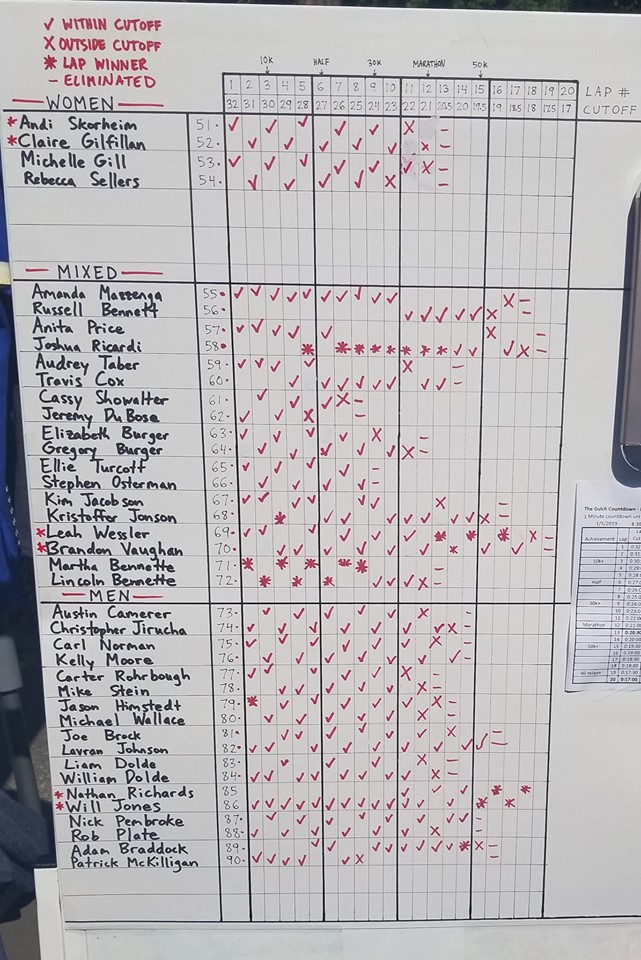 January 5th, 2019
Race report by Zach Szablewski
Final recap: 48 starters, 38 people ran a half marathon, 9 people ran a marathon, and 2 people ran 37 miles!
Men's winners (laps within cutoff):
1. Zach Szablewski (16)
2. John Maxwell (16)
3. Will Jones (12)
Women's winners:
1. Amanda Mazzenga (11)
2. Heather Whitlock (10)
3. Mary Flinders (7)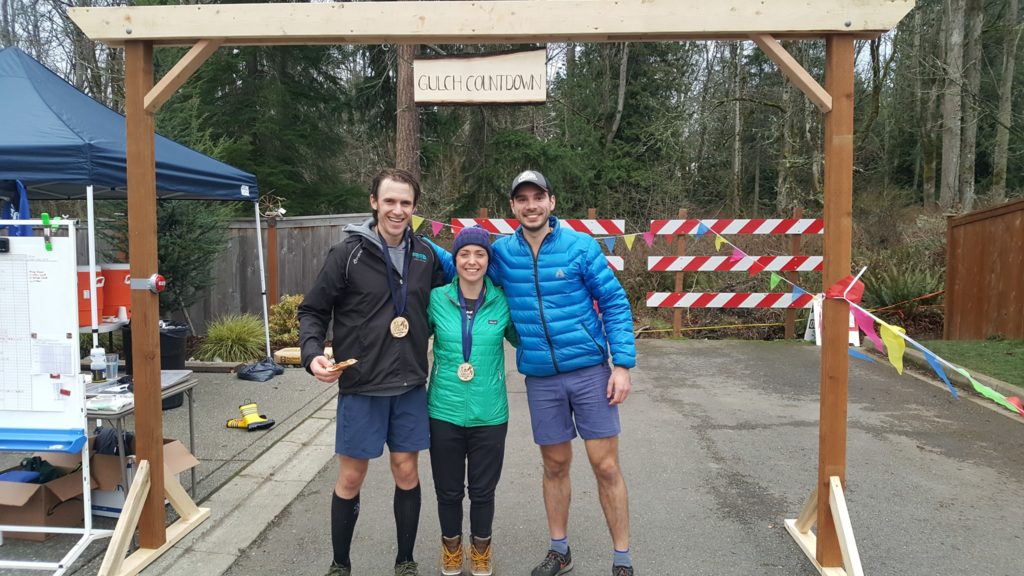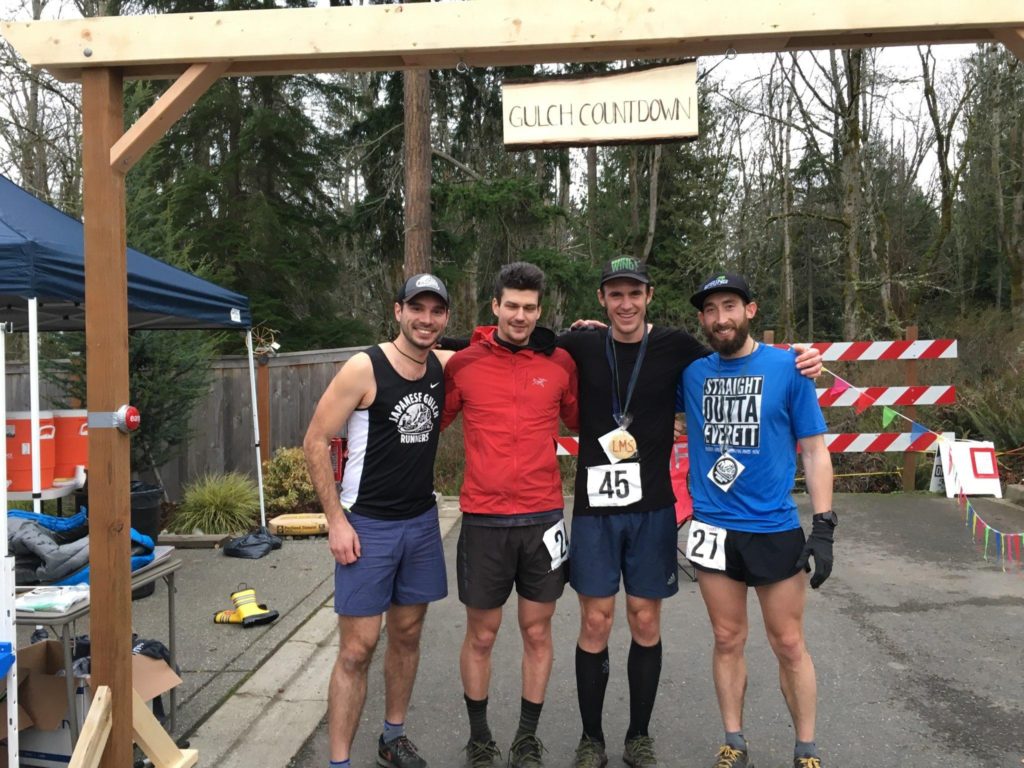 Thank you Adam and Josie Braddock for hosting! Thank you volunteers Kristin Elwell, Travis Cox, Rose Freeman, Gary Halcomb, Dan Clements, John Berta and everyone else who helped pull this off.
Here is the ordered list of finishers. The "Cutoff" column is laps completed within the cutoff and the "Total" column is the total laps completed. Runners with matching lap numbers are ordered alphabetically except for the top finishers which are in the correct finishing order.